Leading HR & Health & Safety advisors to the veterinary industry
We're part of the Outset Group with over 12 years' group experience specifically supporting organisations in the veterinary sector, we have a unique understanding of the industry and have adapted our business to provide the services our veterinary clients need to operate safely and effectively – all under one roof.
Because of our experience, we're extremely familiar with the RCVS Code of Conduct and frequently advise vets on employment and HR issues with RCVS and regulatory standards in mind.
900+
+
HR queries from vets advised on each month
10000
+
hours of HR advice delivered to vets per year
500+
+
Practices supported with radiation protection advice each year
Health & Safety advice for veterinary practices
We are proud to be one of the only providers offering veterinary practices with Radiation Protection Advisor services, ensuring practices and their employees meet their safety obligations when it comes to dealing with radiation, along with specialist Radiation Protection Supervisor training for your team.
Because of our extensive experience in the vet sector, our health & safety audits are highly targeted to each practice and not just a tick box exercise that you may receive from one of our competitors. The quality of our reports and relevant safety documentation have been developed with veterinary practices in mind, including veterinary specific safety management systems, safe operating procedures and tailored veterinary risk assessments for different activities carried out by vets.
To help you meet your statutory fire safety duties, we're also able to conduct a comprehensive fire risk assessment at each of your premises.
People Management for veterinary practices – employment & HR advice
Each month our integrated team of CIPD qualified HR advisers and employment lawyers advise on around 900 veterinary specific employment and HR matters.
We support Owners, Clinical Directors, Practice Managers and their teams with day-to-day HR advice on common topics such as shift work under the Working Time Regulations, role specific employment contracts, along with more complex matters that could include dealing with grievances, misconduct and disciplinary issues raised in a veterinary setting.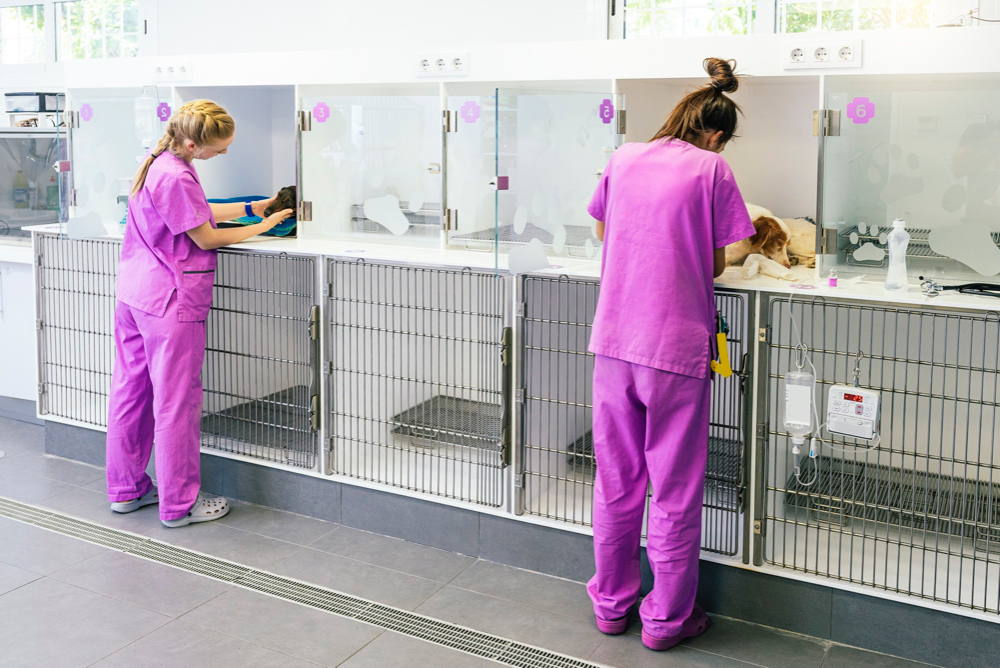 Our veterinary packages & pricing
Recommended bolt-on: RPA
If you work with x-ray machines in your practice you're required by law every three years to have your x-ray machines audited & inspected.
Radiation Protection Advice
Appointment, inspection & consultation
Radiation Protection Supervisor online training
At least two radiation protection supervisors should be appointed and trained every 2 years
From updating Local Rules or advice on additional generator installations.
Trusted by over 650 veterinary practices
We find having access to HR advisors and employment lawyers on an unlimited advice line hugely beneficial. We receive consistent advice and support for our team which allows us to make decisions confidently when we're dealing with tricky employee relations issues. They help us reach outcomes which are satisfactory for all involved.
I have been very impressed with the support and guidance we have received whilst dealing with a number of tricky employee relations matters recently, answering our specific questions as they arise and generally guiding us through some complex processes to enable us to move forward confidently.
The team are friendly and helpful when it comes to managing employee relations issues. They've supported us with expert advice and guided us through processes to reach our desired outcome.
They've been very helpful in assisting with a complex and stressful employee relations matter within in our veterinary business. The team took the time and care to understand the needs of the business and our team, working out how best to handle the legal matter in this situation. They are prompt to reply with helpful advice and always happy to talk more complicated matters through by phone or teams meeting. They explain different options on how to proceed in order for us to understand the process better so the legal matter can be worked through more successfully.