Businesses leading the way in people management
The workplace has changed. You know it, we know it too. Employees are hard to find and even harder to keep. Businesses in all sectors are continuing to come up against recruitment and retention challenges so we're exploring some innovative HR practices that businesses have started to put in place, leading the way when it comes to people management.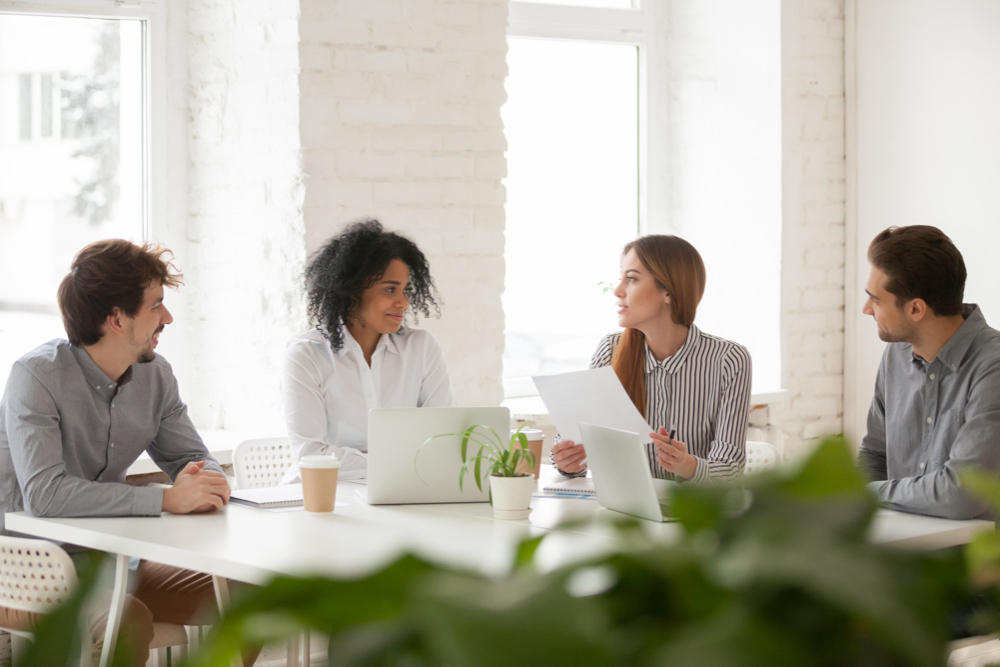 Setting the scene
HR beyond the pandemic
Since the pandemic, employees' expectations have changed, most no longer want to commute long hours or work in the office full time, they've enjoyed the flexibility of working from home, spending time with family and reaping the benefits of a better work life balance. Yet there are still some businesses who are continuing to subscribe to a somewhat outdated way of working, instead of embracing the changes brought on by the pandemic.
Cost of living crisis
The cost of living crisis we're currently experiencing is having an impact on employees too – wages are stretched thinner than ever, house prices and mortgages have increased, even the basics like food and fuel have risen which all contribute towards feeling stressed about financial wellbeing.
A shift towards part time working
Not only that, but more people have chosen to retire early or work fewer hours because they're finding themselves financially better off to do so. A recent report by the Office for National Statistics found that more than 8 million people, that's a quarter of the UK's workforce, are now working part time. The main reasons cited for the shift towards working fewer hours are unaffordable childcare costs and the rising cost of travel, whilst others have sought to pursue their interests.
With all that to consider, it's no wonder businesses are struggling. It's not unknown that retaining employees is easier than recruiting new ones, so what can you do to improve life at work for your employees so they remain with you, whilst also appealing to more candidates?
Businesses leading the way in people management
We're exploring some innovative HR practices that businesses have started to put in place, leading the way when it comes to people management.
You don't necessarily need to take the road less travelled and have a radical overhaul of your HR policies, as you'll see in some the examples below, they're more to provide a glimpse of what is possible and what could be the new norm in years to come.
Menopause Leave Policy
In 2019, Channel 4 became the first UK company to introduce a menopause policy. The policy offers vital tools and support, cool and quiet workspaces, and paid leave for employees who are suffering from menopausal symptoms.
Since then, conversations around the menopause have continued to hit mainstream news and gain momentum as a topic talked about in society.
The British Menopause society report that 45% of women going through the menopause felt that their symptoms had a negative impact on their work, so it's not something employers should ignore.
Unfortunately, the government rejected a menopause leave trial and dismissed a recommendation to make the menopause a protected characteristic under the Equality Act. That doesn't mean, however, that you can't implement your own ways to support employees going through the menopause.
Unlimited annual leave policy
Whilst not so unusual these days, an unlimited annual leave policy can still prove popular with candidates and employees alike. However, the unlimited holiday policy can be a doubled-edged sword – many businesses found that since implementing the unlimited policy, higher performing employees have not used their leave and in fact use less than their previous allowance.
Others found employees were unsure as to what was an acceptable amount of holiday to take under the policy. This has led to some employers switching back to a more traditional approach to managing holiday, mainly to force employees to take a proper break.
Paid leave after pregnancy loss
In the UK, 1 in 5 pregnancies end in miscarriage – in the workplace, it's often an unseen issue but can understandably have a significant impact on employees. Channel 4 and Monzo Bank both offer a pregnancy loss policy, Channel 4 gives two weeks leave on full-pay, paid leave for medical appointments, flexible working, an array of resources including medical support and counselling and a buddying scheme to support employees returning to work after a loss.
Monzo's pregnancy loss policy gives either partner up to 10 extra days of paid leave if they lose a baby due to abortion, miscarriage or stillbirth, regardless of when in the pregnancy it happens. Partners or surrogate mothers are also included, recognising that pregnancy loss doesn't just affect women or heterosexual couples.
Fertility treatment leave
There's currently no legal right for employees to take paid leave for fertility treatments, but acas advises employers to treat IVF appointments as any other medical appointment or sickness.
Discussing IVF with your employer can be an incredibly personal and difficult conversation, so more workplaces are beginning to offer fertility treatment leave including the Co-op, Monzo, Natwest and Centrica. Natwest go one step further and offer discounts to employees on IVF and sperm freezing.
Parental leave policies… with a twist
Netflix is known for its different approach to HR, with tagline 'putting people over policies'. Under their parental leave policy, there's no set amount of time allocated for parents to use their leave – they're given the freedom to return to work after having a baby when they're ready.
Compassionate leave, as standard
More businesses are recognising current bereavement leave policies don't provide enough support for employers so have begun offering employees up to 10 days of compassionate paid leave as standard.
Equal parenthood leave
A bit like shared parental leave, companies have recognised that the two weeks' statutory paternity leave often isn't enough for fathers and that partners too may want more time with their new baby and share some of the parental responsibilities. John Lewis has an equal parenthood leave policy which gives all new parents 26 weeks paid leave (14 weeks at full contractual pay and 12 weeks at 50% contractual pay).
It's available for all Partners who've worked for the Partnership for one year at the qualifying week or you're notified of being matched with a child, regardless of how you become a parent. It tops up any statutory maternity leave and pay, statutory paternity pay and leave or statutory adoption leave and pay.
Monzo Bank also offer something similar called caregiver leave where they offer 52 weeks of primary caregiver leave (26 weeks at 100% pay, 13 weeks at Statutory Maternity Pay (if applicable), 13 weeks of unpaid leave). Plus 13 weeks of secondary caregiver leave at 100% pay.
Gender transition funding
This is a radical policy that Virgin Media O2 announced as part of its drive to become a more inclusive workplace. They will fund gender transition treatment for its transgender and non-binary employees to help them access medical care, support and advice, with work underway to develop and implement a comprehensive package of support.
Subsidised meals when working
A simple but effective benefit, particularly if you operate in the hospitality industry is to offer subsidised meals for employees when they're working. It's likely to cost you very little but with the cost of food rising, it could be seen as a good gesture to your employees.
Paid carer leave
Another one of Virgin Media O2's policies, developed in conjunction with Care UK, identified that 1 in 10 of their employees were unpaid carers. They offer carers up to 5 days' paid leave and can be taken as 10 half days.
4-day working week
Atom Bank have been vocal on social media about their shift to a 4 day working week. And as the biggest 4 day working week pilot came to an end in the UK, almost every business that participated has decided to continue with the reduced hours model.
Whilst revenue increased only marginally, the benefits of a shorter working week were improved mental and physical health, with 39% of employees being less stressed and 71% having reduced levels of burnout, along with a staggering 65% reduction in the number of sick days taken.
The trial allowed each business to design a policy that suited their company which resulted in some businesses taking a Friday off to others staggering hours or under a conditional structure.
Well-being day / duvet day
Xero, the accounting software offer their employees an allocated number of well-being days per year, separate to sick leave. Essentially, it's a day where an employee can take off to look after their mental health – whether that's having a duvet day at home, visiting the spa or having a treatment, it's a day to recharge. Xero say they 'don't want employees to feel like they have to come to work when they aren't in the right state to be there' and wellbeing days support this.
Smaller business Sorted, a tech scale up, runs a duvet day initiative where they let employees have 2 duvet days a year, as long as their employee lets their manager know before 9am and it doesn't clash with key project work, they're ok to take the day off.
Cash to quit
Another more radical idea used by Amazon in the US and accessories retailer Zappos is offering your employees cash to quit. Once a year Amazon's employees with over a year of service are asked if they'd like to leave in exchange for a pay-out based on length of service.
The catch being that if the employee accepts the offer, they are never allowed to come back. This may sound bonkers but Amazon use it as a way of ensuring their workforce is committed, engaged and productive in the long run.
Cost of living support payments / one-off bonus
You could offer your employees a one-off bonus to support with rising costs. 31 businesses in the news earlier this year announced a cost-of-living bonus including Nationwide and the Co-op. Whilst this may not be a viable option for many smaller businesses, and you'd need to consider the tax implications, a small financial bonus could be a welcome gesture.
When did you last review your HR policies? 
We hope these have given you some ideas about the future of people management. If you'd like to speak to us about implementing any of these or perhaps just want your current HR policies reviewed to make sure they're compliant, give our team a call for a free quote today.