Prioritising manual handling safety in the workplace
We often take for granted the ability to carry or move items, so manual handling in the workplace can often be overlooked. It's just one area of health and safety that is essential to the physical well-being of your employees.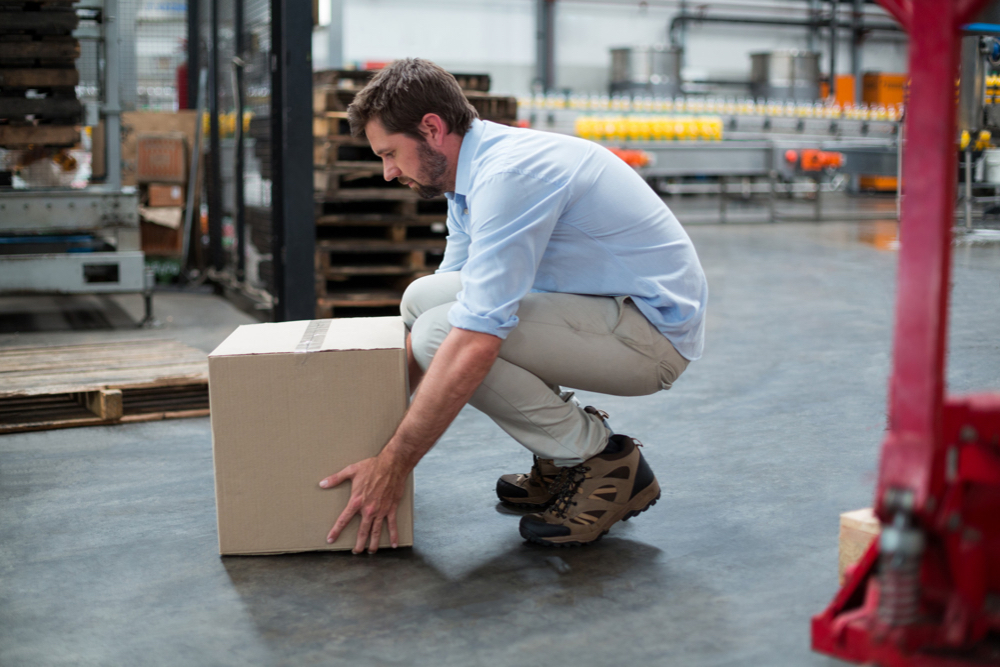 Are you paying enough attention to manual handling?
Unfortunately the latest national statistics aren't reassuring. According to Unison, the public service union, around 300,000 people in the UK suffer from back pain resulting from manual handling accidents.
And when you consider that manual handling causes over a third of all workplace injuries and that in 2021/22, 36.8 million working days were lost as a result of work-related illness and workplace injury, it is easy to see the scale of the problem.
What do we mean by manual handling?
Manual handling refers to the lifting, placing down, pushing, pulling, carrying or moving of objects.
It's also defined by HSE as "transporting or supporting a load by hand or bodily force".
Manual handling if carried out incorrectly can unfortunately result in serious injuries, sometimes leading to a permanent disability and prolongued (or even permanent) inability to work.
Most common manual handling injuries are caused to the back, legs, arms, and joints.
Importantly, manual handling injuries can arise from both sudden one-off incidents or as a result of long-term exposure to repetitive movements or strains.
Manual handling legislation
The Health and Safety at Work etc. Act 1974 places a general duty on employers to "ensure, so far as is reasonably practicable, the health, safety and welfare at work of all his employees".
When it comes to manual handling, employers are legally obligated to:
so far as reasonably practicable, avoid the need for employees to undertake hazardous manual handling (i.e. manual handling that could result in a serious injury if not done properly)
assess the risk of injury from any hazardous manual handling operations that cannot be avoided
reduce the risk of injury from hazardous manual handling to as low as reasonably practicable
If you fail to manage and reduce the risks associated with manual handling risks, it could result in enforcement action being taken by HSE.
Reducing the risk of manual handling
Central to managing manual handling risks is carrying out regular and comprehensive risk assessments. By having risk assessments carried out by an independent third-party like Primed ensures all issues are identified and a fresh pair of eyes may identify risks you hadn't considered.
You can reduce the risk of manual handling using a wide range of measures, including reconfiguring workplace tasks to avoid or reduce the load on workers or even automate or mechanise the task.
If you're a business that operates plants and machinery, it's always preferable to build in automation and mechanisation of work tasks, particularly when designing plant or work systems so that it is already integrated and purpose-built with safety in mind. Specific examples of changes that can remove the risk of manual handling injury include electrically powered hoists, pallet trucks, hoists, and conveyors.
It's not always possible to entirely remove the risk of manual handling injuries, in which case it is essential that employers do all they can to reduce the potential for such an occurrence.
Often manual handling injury risk reduction can be achieved with small amendments or changes such as splitting the load into smaller and lighter batches, changing the posture of workers, improving lighting, or reducing how far or high the load needs to be moved by a person.
Lastly, businesses should provide workers with the correct training and information to prevent injuries in the first place.
When did you last review your manual handling procedures? 
We hope this has given you an insight into some simple and practical tips for improving your manual handling safety procedures. However, if you'd like to speak to us about a full health & safety audit to ensure your workplace safety procedures are fully compliant, give our team a call for a free quote today.